Fully control your data –
what to collect, how to use!
Gain unconditional control over your data!
At any time decide what is collected about you and how it is used by whom.
TOTAL CONTROL
Unconditional control what to collect and who has access.
Other systems collect data about you with limited control what has been collected and with whom and for what purpose it is shared. On the DISEO system you control what data is collected, you control data that has been collected with the power to delete, you control for what purpose such data is used on which platform and with your permission and explicit consent who has access to your data.
DECOUPLING USER DATA
Through decoupling data, you control where your data is used.
In the DISEO ecosystem, communities operate platforms for their users. Users choose which community platforms to use. In this system user data is decoupled from the platforms and stored separately. User data and content is displayed on community platforms according to user settings which can be changed any time. This means, community platforms have no access to user data. They only control in which priority data is displayed.
Decentralized Control
On the DISEO ecosystem control is decentralized. Users control their data and choose a community to use, communities operate platforms and choose what services to offer, advertisers have direct access to users with a double permission of users and platforms. DISEO operates an ecosystem:
Interconnects community platforms.

Secures user data control.

Facilitates message encryption.

Facilitates data monetization.

Integrates third party wallets.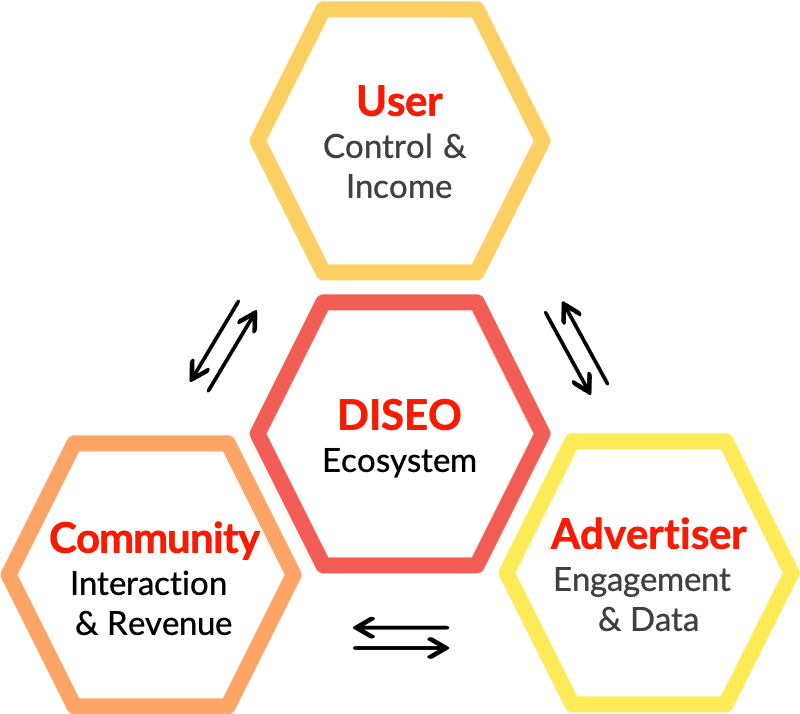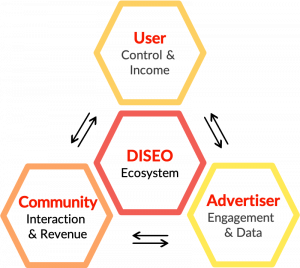 Data Security
Messages including chats and calls are securely end-to-end encrypted. Nobody can read their content. Personal data is stored on servers which are located in the European Union or in the country of residence of the user. And it is free of use! No setup fee, no usage fees. Functionality includes:
Group chat, conference calls.

Posting and live streaming.